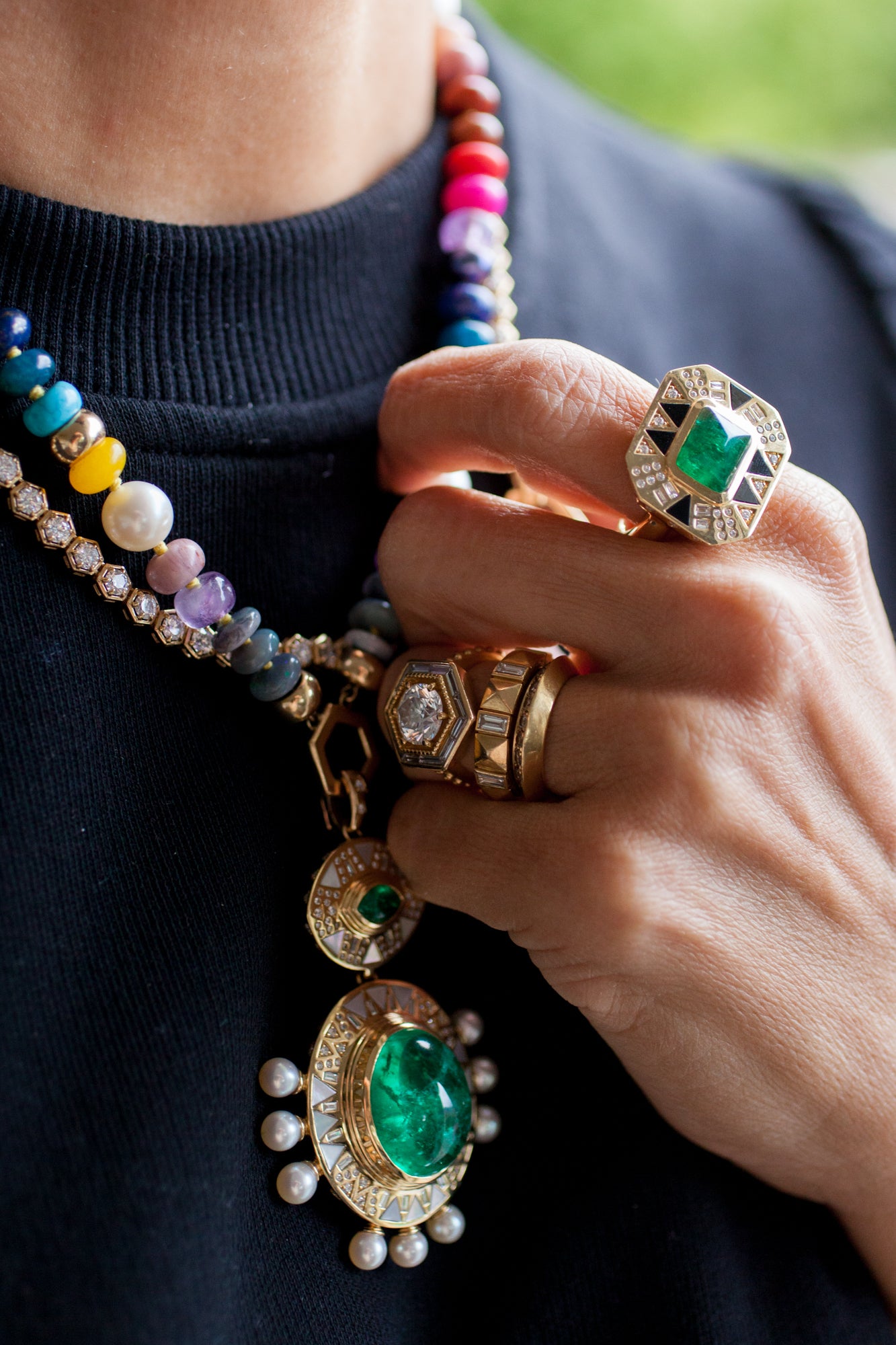 Cleopatra's Vault, HG x Muzo
Captivated with the saturated colors and seductive powers of large-scale gemstones, designer Lauren Harwell Godfrey traveled back in time to ancient Egypt for her newest collection, Cleopatra's Vault. Eschewing a literal interpretation of serpent-inspired cuffs or gilded headpieces, Godfrey instead used her signature triangle inlay - a nod to the Pyramids - alongside statement gems and bold silhouettes then set in 18-karat yellow gold. Designed to adorn a modern-day queen, a capsule of four one-of-a-kind pieces are set with spectacular sustainably-sourced Muzo emeralds from Colombia, nearly glowing from the inside out. Quote from Lauren Harwell Godfrey, Founder and designer of Harwell Godfrey: "My debut fine jewelry collection used a combination of brightly-hued enamel and pavé as I explored how I wanted to use color in my work. I then spent time educating myself about stones — both their properties and their energies — and slowly but surely, my comfort level has grown. This collaboration with Muzo is one of my first forays into working with larger, more precious gemstones, and the biggest question for me was how to apply my design vocabulary to a capsule with these extravagant beauties as the centerpiece. The deep, vivid color of Muzo's emeralds is not only captivating aesthetically, but I've also become enchanted with the lore surrounding these ancient stones, from Cleopatra's obsession to Elizabeth Taylor's unrivaled collection."
SHOP THE COLLAB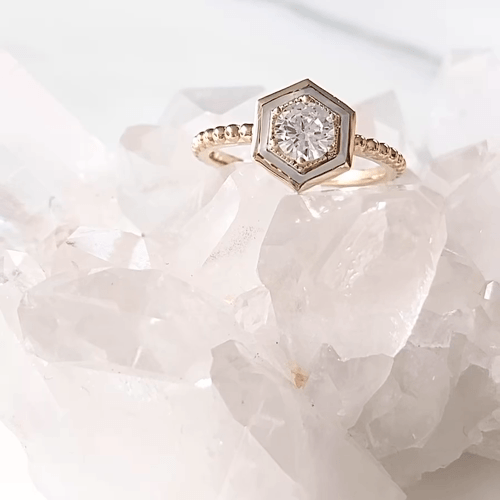 Ten/Ten Botswana
Ten/Ten is a limited capsule collection of 100 commitment rings, designed in collaboration with ten independent jewelry designers, who were challenged to reinterpret the classic symbol of love and commitment for a new audience. Each of the ten designs feature our ethically sourced natural diamonds from Botswana. Aimed to be accessibly priced between $3,000 and $4,500, each ring design is totally unique, with one featuring a hidden inscription and several others the opportunity for personalization by integrating bands or other rings. Ten/Ten was conceived during the early stages of the Covid-19 pandemic, specifically to both promote diamonds from Botswana, a country whose economy relies largely on diamond revenues, as well as to increase visibility of the ten independent designers each chosen for their unique points of view: Catherine Sarr of ALMASIKA, Aurora Lopez Mejia, Bea Bongiasca, Lauren Harwell Godfrey of Harwell Godfrey, Lola Oladunjoye of Lola Fenhirst, Marla Aaron, Michelle Fantaci, Natasha Tsimmerman of Platt Boutique Jewelry, Pamela Love and Wing Yau of WWAKE. The collection was extremely well received with the pieces being sold exclusively by Blue Nile during the beginning of 2021, spotlighting the designers and sharing details on the diamond origins and impact in Botswana.
Shop the collaboration